There will be appropriate policies and orientation to help enhance the competitiveness of leading industrial products.
On 25 July, the HCM City Department of Industry and Trade held a seminar through which to collect opinions from experts and businesses in order to establish selection criteria for leading industrial products representative of the city.
Old products' gradual loss of their foothold
According to Mr. Pham Thanh Kien - Director of the City Department of Industry and Trade - the city's economy still maintained its growth rate over the past years. However, its goal to become a regional economic hub requires a high economic growth rate and therefore it is important to define the city's leading products. The establishment of a program on leading products with appropriate criteria will keep motivating the city's sustainable economic growth.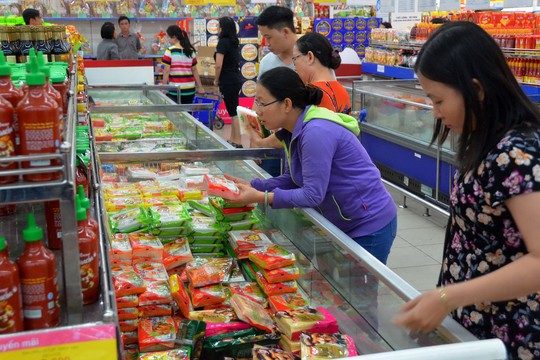 Some food products proposed by enterprises as the city's leading products include instant noodles, canned beverages, and milk...
It is a question of which professions and commodities to select as the leading products and what criteria to rely on for appropriate assistance policies.
It is known that in the 2002 – 2005 period, the city took the lead in the whole country in developing leading products, with around 35 businesses engaged in the program. The city also gave financial assistance of thousands of billions of VND for the businesses to invest in machinery and equipment.
At the time, 15 products from 11 businesses accepted by the city's program steering committee as leading products included Acecook Vietnam's instant noodles, Tribeco's canned soft drink and soy-bean milk, Tan Cuong Thanh's electric cable, Huu Lien A Chau's steel tube, Viet Tien's garment products, Samco's buses and special purpose vehicles, Kymdan natural latex mattresses, Casumina car and motorbike tubes and tyres. However, these products are no longer leading ones for various reasons.
Source: Nguoi Lao Dong Newspaper
Translated by Tran Canh Trong
Written : Theo Báo Người Lao Động