In reference to Tet ticket "touts" openly existent right at the coach terminal, Mr. Nguyen Hoang Huy, Deputy General Director of the Eastern Coach Station (situated in HCM City's Binh Thanh District), on February 7 afternoon gave specific information on this matter.
According to him, the inspection of the ticket office with a phenomenon of ticket "touters" enticing passengers into buying tickets at prices higher than fixed ones showed that this is a booking office freshly rented by a business entity. While waiting to add booking clerks, some management individuals of this entity directly came to their rented booking office and enticed passengers into purchasing their tickets.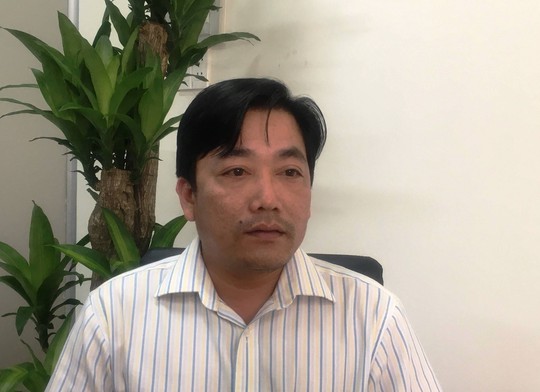 Mr. Hoang Huy, Deputy General Director of the Eastern Coach Station
The Eastern Coach Station leader representative admitted this matter and promised to overcome the problem and to intensify the supervision of all the book offices to ensure their ticket sale at posted prices.
"The Eastern Coach Station has sent its document to relevant agencies to inform them of the above problem. And for the immediate future, we will be taking measures to prevent this in coordination with local functional forces," Mr. Huy said.
In reference to the sale of Tet coach tickets by the transporters at the terminal, Mr. Huy further explained that after enumerating and being attested by management agencies, the Eastern Coach Station would start the implementation. During the inspection and supervision process, if anything inadequate was found in reference to the enumeration, the Eastern Coach Station would collect and classify and then refer it to the management units for tackling. At the same time, a request would be made to temporarily cease the ticket sale.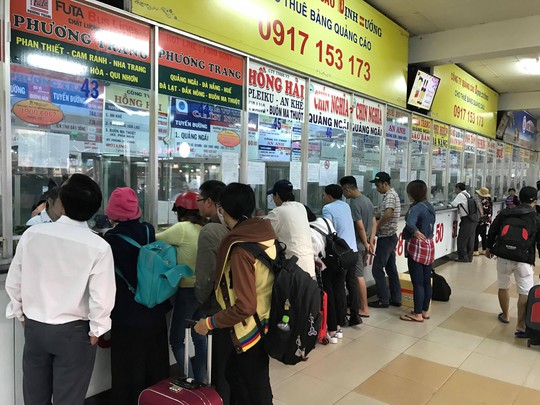 Passengers buy Tet coach tickets at the Eastern Coach Station on February 7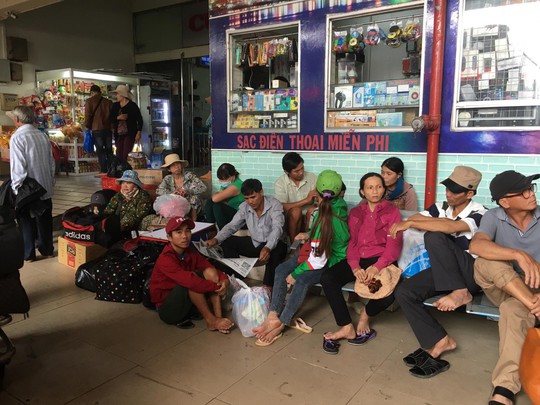 Many of the passengers are tiresomely waiting to buy tickets at the Eastern Coach Station.
No lack of post-Tet return vehicle trips
According to Mr. Huy, about 150,000 tickets were sold from transporters and 500 from the Eastern Coach Station alone, including those sold online, until February 7. In order to satisfy passenger transport demand on pre-Tet peak days, the Eastern Coach Station authorities said they had given a report asking the HCM City Department of Transport to allow transporters to further rent vehicles from outside, including mobilizing vehicles from other coach stations to operate on peak days. As for the Eastern Coach Station, it combined with the transporters to mobilize more vehicles from routes with low passenger travel demand.
The Eastern Coach Station authorities also kept it informed that they had contracted with vehicle lessors for their advance purchase of tickets at the terminal. "In case the number of vehicles remains insufficient, there is still a final option of mobilizing buses for this task to ensure no passengers will be left unable to return to their hometowns for Tet celebration," Mr. Huy claimed.
Source: Nguoi Lao Dong Newspaper
Translated by Tran Canh Trong
Written : Theo báo Người lao động